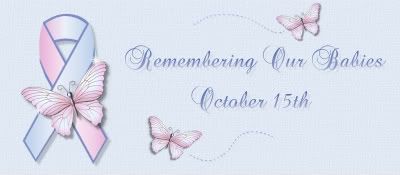 Today, all over the world, parents are coming together to remember their sweet lost babies, some to early miscarriage, stillbirth, premature birth or SIDS.
I thought I would be very sad today, remembering all of these babies who have passed on. While I am sad, I also have to stop and take a moment to thank a higher power for allowing me to have Jenna for a little while.
I'm going to take a moment to remember her. She was stubborn, just like her sister, momma, nana and great-granny. Every time we went to the doctor (except for once), her little heart was beating solidly away. Even with just a little brain matter, she held on for a long time. Her most active time was in the morning. I would have my one caffeinated drink a day, and she would start moving around. I miss those kicks so much.
Other bloggers who have lost children are praying for the people who have lost children. Even though I don't really believe in a Christian God anymore, I do believe prayer can be a good thing, with all kinds of positive energy and thoughts floating around. Instead of doing a prayer for those who have lost babies, I want you to post a story of remembrance in the comments. Please share your name, your baby's name, what happened and a little bit of what you remember about them. If you haven't lost a child, you can tell me about a friend or loved one who has. Please feel free to post anonymously if you wish.
I'll start:
My name is Tamara, and I lost my baby girl, Jenna Grace, to Trisomy 18 at 21 weeks. She was stubborn and loved to move around in the morning. If she had lived, she would have looked just like her big sister. She is always in my heart.
Who's next?